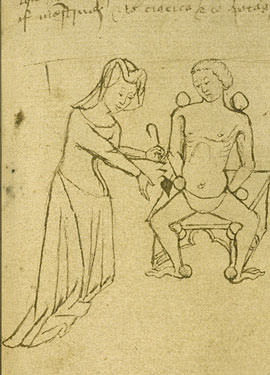 Sorry for the delay. Hope your hips were getting better with activity modifications alone. Now for the rest of the story…
1)      Once greater trochanteric bursitis is in full bloom, you might need to add some anti-inflammatories to the equation. If you're working on this on your own, then over-the-counter (OTC) non-steroidal anti-inflammatories (NSAIDs) are what you can use. Aleve and Advil are useful and as long as you have no medical reasons not to use them, they will help. But you can't use these alone and expect to get well. You've got to address the mechanical issues as well.
If you go to your doctor for treatment, then you can get prescription level doses of NSAIDs and also he/she might recommend short courses of prednisone or even a cortisone injection. These are often very helpful and can even "cure" the condition, but don't be surprised if it comes back. Unless you've addressed the causative or mechanical factors involved, this will often be the case.
2)      Stretching the iliotibial band can help, but sometimes it can cause more pain, so often when the condition is in a dire state (and believe me, sometimes it is), I don't recommend stretching. Wait until it calms down first. Sure, these are gentle stretches and you can start doing them, but go easy at first.
Wall Stretch: Stand about a foot from the wall with the painful side toward the wall. Cross the bad leg over the outside leg and slowly lean into the wall. Extend your arm up the wall to support yourself, but if you have a rotator cuff tear (I'll talk to you later) then just lean your shoulder into the wall. 
Bed Stretch 1: Scoot to the edge of your bed and roll onto your side, with the painful side up.  Try not to fall off. Then slowly swing your top (painful) leg over the side of the bed and let it hang down. Try to keep your knee straight.
 Bed Stretch 2: In a face-up position bend your hip and knee.  Then cross the involved leg over the other leg. You can increase this stretch by pulling the knee of the involved leg with the opposite arm.
Bed Stretch 3: Get on your side (painful side up again). Move your bottom leg forward to get it out of the way of your upper leg. With your upper knee bent, slowly lower your leg to the bed. 
While doing these stretches , you should feel tension across that hip. If it is too painful, then back off. Either decrease the amount you do it or stop altogether, until you have more control of your pain.
If both of your hips hurt, let me first say, "I'm sorry." And then let me say to do all the above on both sides, unless you can't tolerate lying on either hip. Then let me again say, "I'm sorry." This is a bad problem to have. People who have it are to be pitied in any way that you might pity a person with any illness. They need love and attention…and this blog.